Latest News
Holiday intensive programe
week one - 6th to 10th July
week two - 13th to 17th July
$80 for week.
call Judy to book.
021 201 7638
One year celebrations: all activities free.
8.30am to 9.15am Aqua Aerobics.
booking required
9.30am to 10am mums and bubs class.
bookings required
10.30am to 1.00pm pool open for swimming.
phone 0212017638 for more information
Whale on the wall
Bring in your drawings and put it up on Whale bubbles.
Aqua mornings
Tuesdays and Thursdays at 6.45am
Look through the photos to see how far we have come from the hole in the ground to painted and ready for the final touches
Bookings are open...... go to bookings tab. Any problems please contact 0212017638 .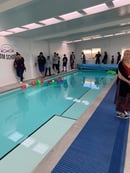 Opening day celebrations 20th July 2019 blessing and ribbon cutting ceremany.
01/30/19